Enjoying a good steak is one of my favorite parts of keto, but living in the Midwest means cooking a steak on the grill is not always possible.
For those days when you can't control the weather,  use this perfect pan seared steak recipe so you can still enjoy a delicious dinner.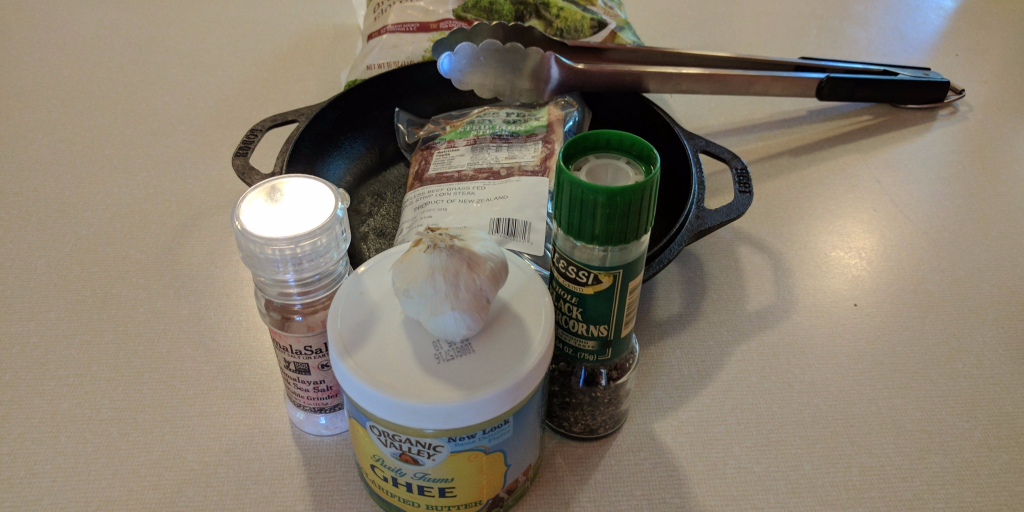 Ingredients 
16oz strip steak

1 clove garlic

3 sprigs of rosemary

Ghee

Salt and pepper
Directions
Dry brine your steak by putting a generous coat of salt on both sides of your steak and placing it on your plate in the refrigerator. Let it rest overnight ( or at least a few hours before cooking)
The next day, 90 minutes before you want to eat, rinse the salt off your steak and pat dry
Rub both sides with garlic and pepper to taste
Put your steak in the freezer uncovered for 30-40 minutes. Elevate if possible.
Preheat your oven to 250 degrees
When your freezer time is up let your cast iron skillet get scorching hot for 3-5 minutes and turn your exhaust fan on.
Add just enough ghee to coat the iron skillet.
Pull your steak out of the freezer and use tongs to sear each side of your steak for 1 minute
Once your steak is done searing, pull it off the hot burner, lift it and place 3 sprigs of rosemary on the bottom of the pan and a dollop of ghee on top.
Place in the preheated oven for 25 minutes
Pull your steak out of the oven and probe with a thermometer to check if it is at least 135 degrees
Enjoy!
Nutritional Information (per serving)
Calories: 472 Fat: 20g Protein: 73g Carbs: 0g